Sometimes, circumstances arise, grab the world by its neck and shake it violently, as if to say, "Pay attention. The world has changed. Business, as usual, is no more." Andrew Keen, the author of
How to Fix the Future
, recently
commented,
"The physical analog world is being decimated, with traditional analog businesses including hotels, restaurants, and airplanes in crisis. The digital world, however, is thriving. We are surviving through this pandemic because of technology." The business implications of COVID-19 can be reduced by positioning your business to be resilient in the face of this and the next global threat.
A Wakeup Call . . . And a Warning
The global shelter-in-place strategy will hopefully save lives, even as it exposes the vulnerability of business, large and small, to future economic and social upheavals. 
A close look at those companies who have best weathered the novel coronavirus storm reveals that firms who have gone through a digital transformation are best positioned to recover quickly. Moreover, their actions will likely lessen the impact of future social and economic disasters on their businesses. 
"We're done with talking about if it is a good idea to digitally transform, now the conversation has shifted to how quickly can you get me there." says ServiceNow CEO Bill McDermott. Can your business do that today? Will you be able to adapt to the next crisis? And the one after that?
Make Better Business Decisions
Businesses grow and succeed or fail on the quality of the decisions made by management. Even though no one can predict the future (as far as we know), some companies seem to consistently make the right decisions in up and down economic times. What sets them apart? What can you learn from their experience? The following recommendations will improve your survivability/failure quotient:

Implement business analytics

. Market leaders in good markets and disruptions are those companies that automatically capture, analyze, interpret, and convert data into information that drives actionable business decisions. A company's management, through the use of analytics, can (1) better tailor products to customer demand, (2) optimally direct resources for the most impact, and (3) identify potential problems early (the difference between putting out a match and forest fire) than their less-informed competitors. An article in

Business Partner Magazine

noted that through the use of analytics, "more small businesses than ever before are able to boost their cost efficiency, reduce waste, and improve their business processes." This strategy can help you reduce the business implications of COVID-19.
Maximize cloud storage use.

In addition to reducing the risk of the physical loss of critical company records from a natural disaster, transferring programs and data to the cloud increases operating flexibility and access. The advantages of off-site data storage are apparent in current

global shelter-in-place conditions

. Employees working from home can easily access corporate data, applications, and services by following the proper security protocols. During normal business conditions, the use of the cloud can reduce fixed IT costs by contracting service on an as-needed basis.
Automate routine, repetitive business tasks

. A significant portion of everyday business operation is dull, redundant, and pedestrian, though essential. Advances in AI and software have created opportunities for businesses to transfer many of these tasks from bored, disinterested flesh-and-blood clerks to computers that operate without breaks, vacations, errors, or medical emergencies. Automating work provides staffing flexibility during economic booms and busts (like the COVID-19 effect on the economy).
Protect Your Markets
Maintaining a revenue stream is especially critical during recessions and the conditions today. Enabling your customers and potential buyers to quickly and seamlessly access your products and services is essential. Implement the following steps to reduce the business implications of COVID-19:

Take your business online

. An online presence is no longer a competitive advantage, but a competitive necessity for small and medium-sized companies. A company website is a one-to-one communication channel targeted directly to your market. A website functions as marketing, merchandising, advertising, and PR presence, reinforcing your brand, and burnishing your image. Reduce overhead and provide better service by allowing your customers to remotely view a company's inventory of products and services,

purchase and pay online

, keeping your customers, and your employees safe at home.
Offer on-demand service

. People generally live in the present without much thought of the future. We tend to make decisions on impulse and grow impatient if a response is delayed, i.e., "When we want something, we want it now!" According to a study by

Invesp Conversion Optimization Services

, more than eight out of ten make impulse purchases accounting for 40% of all purchases on e-commerce. Failure to take advantage of this psychology by offering on-demand services, streaming video, shopping, and delivery – can be the difference between survival and bankruptcy during periods of social distress
Provide best-in-class AI customer experience.

Studies

suggest that it costs five times more to gain a new customer than keep an existing customer. Research has found that the number one factor in customer loss is poor customer service. Too many businesses focus their efforts on the front door, leaving the back door unguarded. World-class organizations have integrated AI and digital technologies in their customer services. Personalized product selection and comparisons, ease of payments, product returns, and general inquiries are instantly available through 24/7 chat lines operated by AI-assisted live operators. According to the international consulting firm

SAS

, "customer experience (CX) is an area that offers immense opportunity for organizations to differentiate."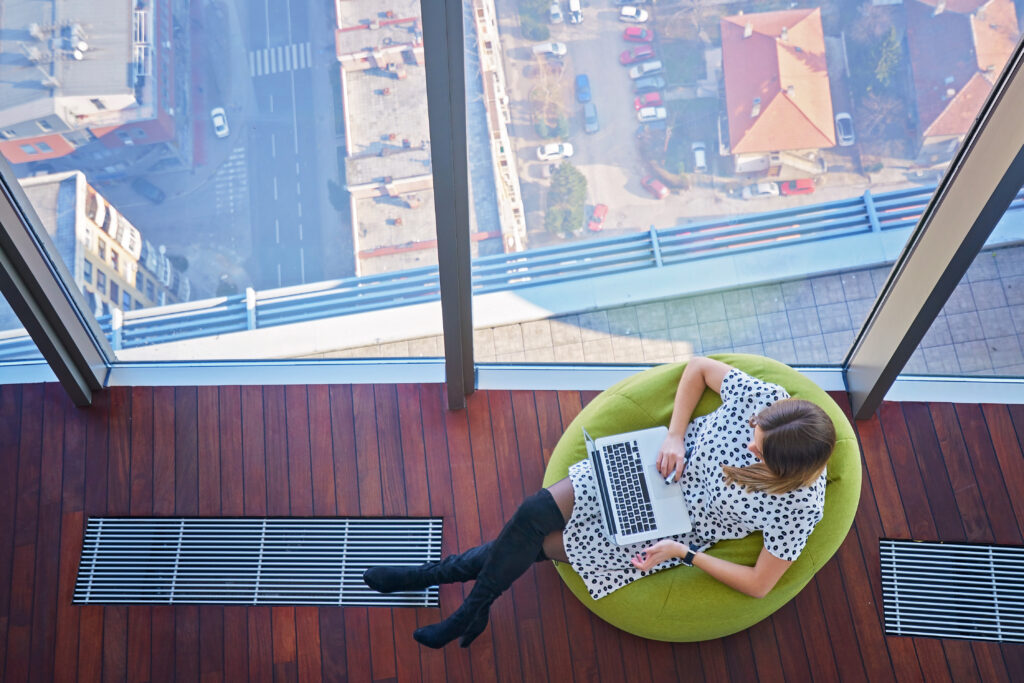 Companies and employees have experienced the benefits of remote work and will resist a return to pre-pandemic business models.
Reduce Your Costs
Reducing cost is the other side of the profitability coin, especially fixed costs like a plant, equipment, and minimum staffing during times of stress. In good times, lower expenses lead to higher profit margins and competitive flexibility. Circumstances such as the coronavirus expose vulnerabilities that have been overlooked, misinterpreted, or ignored. Whether you are trying to respond to the business implications of COVID-19 on current conditions or prepare for the future, you should:

Implement mobile technologies. Working from home or on the move will continue after the end of the virus threat. Companies and employees have experienced the benefits of remote work and will resist a return to pre-pandemic business models. Laptops, tablets, and cell phones are ubiquitous and increasingly the most popular way to communicate with a business as a customer, vendor, supplier, investor, or employee using Mobile App. A 20th-century business must offer a broad selection of contact to and from the company, especially the afore-mentioned mobile channels.
Optimize your business processes.

Business processes, like computer software, do not automatically update for new conditions. Over time, processes become bloated, inefficient, full of bottlenecks, error-prone, and unnecessary, embedded by habit and lethargy. Consequently, expenses are excessive from wasted, misdirected effort. Most companies overspend for indirect services and redundant controls that could be eliminated by redesign or fully automated with technology to reduce the business implications of COVID-19. Establishing a consistent, annual, or bi-annual audit of major company processes reduces cost and increases productivity.
Reduce your physical footprint

. The acquisition and maintenance of physical assets are expensive and on-going, especially if there is no competitive advantage to be gained. High fixed costs are the fastest route to the bankruptcy court. Fortunately, technology allows people to work outside a central physical structure and stay connected on a full-time, real-time basis. Contracting specialized companies for specific jobs or periods satisfy temporary or infrequent requirements for human resources. Remote workers can be located in the next block or half-way around the world, ensuring a competitive cost for similar work across national borders. Businesses who have offshore, lower-cost IT teams with high productivity may gain advantages over domestic higher-cost providers.
Steps to Implement the Latest Technology in Your Business
If the previous discussion failed to cover your business issue, don't despair. There are a plethora of resources available online for little or no cost to help. You are likely to find that your problems are neither unique nor insoluble after talking with a professional technology consultant. The following will guide you to a solution:

Write your business problem that you think technology can solve. Losing customers, costs too high, customer relations deteriorating, process redundancies, productivity issues and bottlenecks, better website, are just a few of the problems that torment business owners. Try to put metrics with your description to identify the value of benefits you expect to receive.
Contact an experienced Custom Software Development Company. An Internet search of the terms "custom software development," "business analytics software," or "custom software consultants" will produce several candidates. Browse their websites for a high-level review of the capabilities and services and contact the one that seems to fit your needs.
Review the credentials of the company and ask for reference letters. Never buy a pig in a poke, even if recommended by your best friend. Ask for professional credentials, experience, and client testimonials. Always check client references to get a realistic view of what you might expect as a client.
Require a written proposal from your selected vendor. At a minimum, the document should include a detailed scope of the work, deliverables, schedule, cost, and payment terms as well as other conditions that affect your obligations under the contract. Many clients get a legal review to ensure they understand the details. My experience suggests that common sense and proper due diligence eliminates the more catastrophic choices of a vendor.
Final Thoughts
The novel coronavirus pandemic has overturned traditional methods of conducting business, exposing our vulnerability to social and economic disasters in a globally connected world. Taking steps to prepare your business requires a robust digital transformation. In my opinion, companies implementing these recommendations will have better chances to survive the recession that will continue past the demise of the pandemic.